St Francis Table – Ministry to the Elderly
Meeting every 1st and 3rd Monday of the month at 10am in  St Francis' Hall, 47 Dornoch Tce, West End.
Interested in learning more about this ministry: St Francis Table Ministry to the Elderly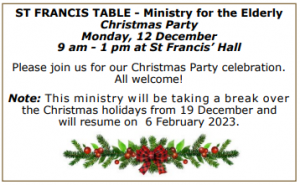 ADVENT REFLECTION – Incarnation
Thursday, 24th November – 6pm at St Mary's House.
As we journey through the seasons of Advent and Christmas this year, we invite you to join us in our 4 weekly reflection as we reflect daily on the wonder of the incarnation of Jesus Christ, where, as St Augustine of Hippo reflects:
"Man's maker was made man that He, Ruler of the stars, might nurse at His mother's breast; that the Bread might hunger, the Fountain thirst, the Light sleep, the Way be tired on its journey; that Truth might be accused of false witnesses, the Teacher be beaten with whips, the Foundation be suspended on wood; that Strength might grow weak; that the Healer might be wounded; that Life might die."
Archdiocese of Brisbane Covid-19 Vaccination Policy – Updated
Announcement by Archbishop Mark Coleridge
Planned Giving Program
Please consider giving to our planned giving program
Thank you to the committed parishioners who financially support our parish every week.  As you can imagine the cost of running and the upkeep of a parish this size takes a considerable amount and we ask that you prayerfully consider committing to assist our planned giving program. The easiest most hassle free way for you to do this is via our Direct Debit Program.  Click on the link below to download the form for this parish. Once completed, email to the parish office directly Email: southbrisbane@bne.catholic.net.au
Download: Planned Giving – Direct Debit Form
SYNOD OF BISHOPS
Sunday, October 17, dioceses around the world launch local preparations for the Synod of Bishops, which has the theme: For a Synodal Church: Communion, Participation & Mission
The Catholic Church in Australia invites you, the People of God, to make submissions via an online portal that which  will help the Bishops develop a national report to support the global process leading to an international gathering in 2023. Find out more at: http://www.catholic.org.au/synodalchurch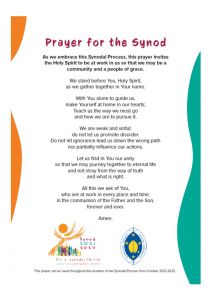 QUESTIONS ABOUT THE CATHOLIC VIEW ON VACCINATION?
You can learn more about Pope Francis's recent encouragement to all to get vaccinated with approved Covid-19 vaccines in the link below. Pope Francis referred to it as 'an act of love.' https://www.vaticannews.va/en/pope/news/2021-08/pope-francis-appeal-covid-19-vaccines-act-of-love.html
The Archdiocese of Brisbane supports COVID-19 vaccination except for those people with a valid medical exemption from their health professional. We do recognise that some Catholics have concerns about the origins of the cell-line associated with the development of the AstraZeneca vaccine. If this is a concern for you then the Pfizer and Moderna vaccines provide two alternatives that avoid this issue.
The Season of Creation – A Historic joint Statement issued by Pope Francis, Ecumenical Patriarch Bartholomew and Justin Welby, Archbishop of Canterbury is below —this is a first ever message from the three faith leaders calling on all Christians and their communities to address the 'unprecedented threat of climate change and environmental degradation."  A-Joint-Message-for-the-Protection-of-Creation
Catholic Christianity Launch
This week we launch our Catholic Christianity Project which is an online initiative aimed at reaching those who might be enquiring about the Catholic faith. This project features a weekly podcast and video presentation that systematically walks listeners on a journey toward faith, addressing everything from how do we know there is a God, to why the Church's moral teachings can actually be life-giving and compelling when properly understood.
Join us on a journey through the teachings of the Catholic Church, explained in a way that is inspiring, challenging, and easy to understand.  Find out more about Catholic Christianity here: https://youtu.be/TJqCsEiorZs
Where to get Catholic Christianity
The first episode of Catholic Christianity Season 1: Reasons to Believe is now available. To listen to the podcast, visit your preferred podcast streaming platform. To watch the video, visit the Catholic Christianity YouTube channel, or head to the Catholic Christianity website at catholicchristianity.org.
You can also follow Catholic Christianity on social media to stay up to date with the latest episodes:  Facebook Instagram Twitter
Please join with us in prayer for our World with Covid-19
"For the people of our world: heal those who are sick, support and protect their families and friends, and comfort their loved ones here in our communities."
Archdiocese of Brisbane
Aunty Ravina Waldren is a Gubbi Gubbi woman based in Brisbane and leads the Murri Catholic Ministry. In Ravina's role she takes part in many practical ministries that perform works ecumenically to coordinate church services for National Reconciliation Week and other nationally significant dates, undertakes works in schools and prisons, coordinates funerals and advocates for Aboriginal justice; including Aboriginal deaths in custody.
Aunty Ravina's leadership in Brisbane, and throughout Australia, supports and encourages Aboriginal peoples, as well as educates non-Indigenous peoples. Enjoy reading this piece on Common Grace https://www.commongrace.org.au/walking_together_with_solida…
Aunty Ravina Waldren calls us to walk together with solidarity towards Reconciliation.
Sacramental Program 2023
The enrolment for the Sacrament of Penance/Reconciliation is now open.
Information about this sacrament is on the front page under Sacrament.
Information Evening
Wednesday, 8 February 2023 – 6pm
St Ita's Church Dutton Park
Parish Activities (dependant upon current Govt restrictions)
CHILDREN'S LITURGY 
St Mary's Church 9.00am  (School Term Only)
YOUTH MASS
4th Sunday of each month 5pm St Mary's church
ADORATION
Sunday: 4:00 p.m.—5:00 p.m. St Mary's Church
ANOINTING OF THE SICK MASS 
1st Friday of the month | St Mary's Church 7:00 a.m
PARISH MORNING TEAS 
Every Sunday St Mary's (and Feast Days)
PRAYER AND QUIET REFLECTION (On Hold at the Moment)
Monday to Friday: 12:00 noon—2:00 p.m. at St Mary's Church
ST FRANCIS TABLE—Ministry to the Elderly 
Monthly 1st and 3rd Monday: 10am -1pm
St Francis Hall, 47 Dornoch Terrace, West End
Youth Mass
We invite you to come along, invite your friends and join in our mass for youth.  Held every 4th Sunday of the month 5pm  at St Mary's Church.  Open for all ages
St Mary's Parish Needs Your Support 
Our Restoration project continues with the  replacement  of the cement in the front area, resurfacing of the car park and upgrade of the driveways.  Donations to this project can be made by deposit to:
St Mary's 'Restoration Fund'
Account: BSB: 064-786
ACC: 100021220
Ref: Your Surname
Please email the office with notification and your contact details so that a receipt may be issued to you.
Please note these are not tax deductable accounts.
We Need Your Support
Thank you to those already giving online. We ask that all parishioners, please consider giving to the collections during this time  You can do so online with an internet transfer, or contact our parish secretary to set up a Direct Debit or credit card payment.
For internet transfer:  Note—these are 'Internet Only' accounts.
Details are below for internet transfer: PLEASE NOTE CHANGE OF BANK ACCOUNT DETAILS
So that we know where to allocate the deposit please ensure that the reference has your last name and collections on it.
BSB: 064-786
Acc No: 100 009 890
Acc Name: St Mary's Catholic Church
Reference: Last Name collections
Please note that this in an 'Internet Only' account.
For Direct Debit contact the Parish Secretary: southbrisbane@bne.catholic.net.au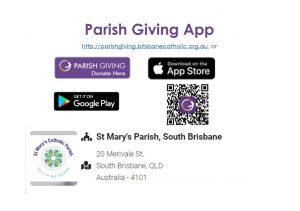 Weekly Newsletter
If you would like to receive the newsletter via email each week, please email our Parish Secretary directly and request to be put on the mailing list Parish Office Email
Containers For Change
Recycle and support St Mary's Church Restoration fundraising by depositing the 10 cents refund from your eligible drink containers (soft drinks cans and bottles, water bottles, flavoured milk) to Scheme ID: C10064056