Parish Activities (dependant upon current Govt restrictions)
CHILDREN'S LITURGY 
St Mary's Church 9.00am  (School Term Only)
YOUTH MASS
4th Sunday of each month 5pm St Mary's church
ADORATION
Sunday: 4:00 p.m.—5:00 p.m. St Mary's Church
ANOINTING OF THE SICK MASS 
1st Friday of the month | St Mary's Church 7:00 a.m
PARISH MORNING TEAS 
Every Sunday St Mary's (and Feast Days)
PRAYER AND QUIET REFLECTION (On Hold at the Moment)
Monday to Friday: 12:00 noon—2:00 p.m. at St Mary's Church
ST FRANCIS TABLE—Ministry to the Elderly 
Monthly 1st and 3rd Monday: 10am -1pm
St Francis Hall, 47 Dornoch Terrace, West End
Youth Mass
We invite you to come along, invite your friends and join in our mass for youth.  Held every 4th Sunday of the month 5pm  at St Mary's Church.  Open for all ages
St Mary's Parish Needs Your Support 
Our Restoration project continues with the  replacement  of the cement in the front area, resurfacing of the car park and upgrade of the driveways.  Donations to this project can be made by deposit to:
St Mary's 'Restoration Fund'
Account: BSB: 064-786
ACC: 100021220
Ref: Your Surname
Please email the office with notification and your contact details so that a receipt may be issued to you.
Please note these are not tax deductable accounts.
We Need Your Support
Thank you to those already giving online. We ask that all parishioners, please consider giving to the collections during this time  You can do so online with an internet transfer, or contact our parish secretary to set up a Direct Debit or credit card payment.
For internet transfer:  Note—these are 'Internet Only' accounts.
Details are below for internet transfer: PLEASE NOTE CHANGE OF BANK ACCOUNT DETAILS
So that we know where to allocate the deposit please ensure that the reference has your last name and collections on it.
BSB: 064-786
Acc No: 100 009 890
Acc Name: St Mary's Catholic Church
Reference: Last Name collections
Please note that this in an 'Internet Only' account.
For Direct Debit contact the Parish Secretary: southbrisbane@bne.catholic.net.au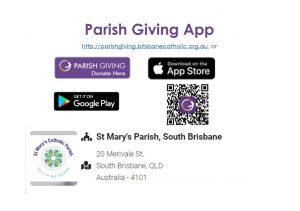 Weekly Newsletter
If you would like to receive the newsletter via email each week, please email our Parish Secretary directly and request to be put on the mailing list Parish Office Email
Containers For Change
Recycle and support St Mary's Church Restoration fundraising by depositing the 10 cents refund from your eligible drink containers (soft drinks cans and bottles, water bottles, flavoured milk) to Scheme ID: C10064056